Westward League Cross Country - Final Results 2020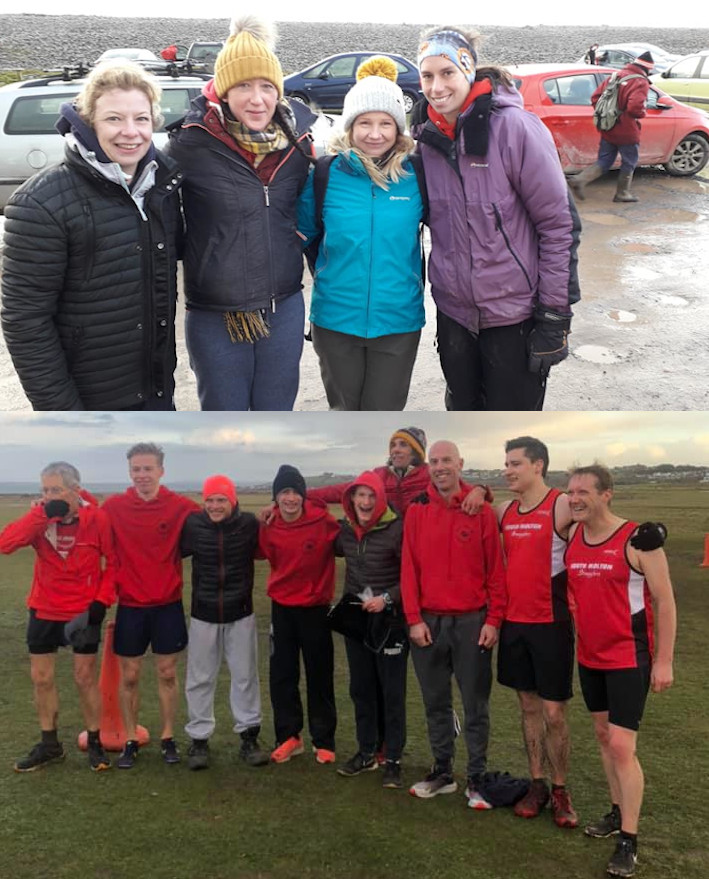 Well done to all our Strugglers Ladies and Gents who helped us undertake our first season in the Westward League, which I'd guess you'd describe as the 'Premier' League of its type in the South-West, regardless of terrain type.
It's been a bit of a learning curve but I think I can say unequivocally that everybody enjoyed it (although none of the men enjoyed the start-line pelting we got from the weather yesterday...). We even managed to get teams out of 'the Shire' to the Newquay fixture, although Redruth got cancelled due to Storm Ciara.
The final results are in and they're really impressive:
LADIES
264 women competed over the course of the season. Our ladies finished in the following order:
30th - Catherine Whitehill
33rd - Fiona Corrick (despite missing a round)
44th - Sophie Rowcliffe
72nd - Jo Sleep (despite missing a round)
152nd - Julie Young (missed most rounds!)
240th - Agata Obidowicz (only ran one round).
Jo Sleep was also 5th V35 - well done Jo!
There were 64 teams at final count, including 'B' and 'C' teams, a touch I really like about the Westward League. Our ladies, despite being a runner down at Stover (meaning we missed vital points) finished a fantastic 13th! That might not look impressive (not quite trophy territory) but I could reel off a list of other notable A-teams they beat; Erme Valley, Okehampton, Exmouth, and more locally, Bideford and Tiverton. But they could definitely do with some help next year, so hopefully we'll see more of our wonderful club ladies involved come October.
MEN
312 men competed over the course of the season. Our gents finished in the following order:
9th - Paul 'Horse' Cooke
11th - James McKibbin (running for NDAC though)
12th - Paul Morgan
53rd - Michał Leśniak (missed Newquay)
64th - Dave Cutler (missed Stover)
91st - Lewis Marrow (missed Newquay)
93rd - Richard Connett (ditto)
123rd - John Hancock (missed Stover)
143rd - Leo Holroyd (ran two rounds)
221st - Jack Batchelor (ran one round)
Paul Morgan was also joint 5th V40, with Dave next in 7th and Richard 13th!
There were 62 mens teams, and our team came....4th! An absolutely fantastic and unxpected result which demonstrates how teamwork, and taking part, is even more important than having stand-out runners. I won't go into details but most teams from the SW were involved and we beat - well, nearly all of them really, including Exmouth, Bideford, etc. Tavistock AC, who finished 3rd, we actually outperformed on 3 out of 4 rounds, but they put in a big score at Plymouth which we missed. Lesson for next year.
This really was a lot of fun, and I like the format. We could have done with a few more bodies for both teams, there was a lot of scrabbling trying to get a full team at numerous rounds which became a bit of a hassle, but I'm so appreciateive of all those who ran, even if they were worried about their own individual performance. This really is a league where showing up is half the battle.
If anybody wants to know more, or fancies a go next year, please do have a chat with me or any of our runners. All of you who enjoy 'filthy Friday' should really come along next year!
Finally, thanks to Michael Paterson for basically being Assistant Team Manager and for always being willing to help with lifts, and to Leo Holroyd for swapping Ilfracombe blue for Strugglers red and helping us out with vital points, particularly at the Newquay round!
Horse