Castle Hill Corker - 23rd Feb 2014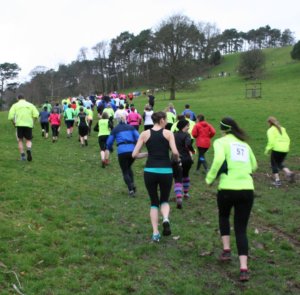 'Brilliant, amazing, challenging, excellent, whens the next one, stunning, fun, organised' - just a few of the words the competitors used to describe the inaugural Castle Hill Corker that took place on Sunday 23rd February in aid of the North Devon Hospice.
When the Strugglers asked Lady Arran if she would give us the opportunity to hold a race at Castle Hill, we didn't realise what a huge success it would be. But that it was and just six weeks after entries opened, all 200 spaces were taken.
Two months later, on a windy Sunday morning the lucky 200 runners converged upon Castle Hill estate. For some this would be their first ever race and nerves were high. For others, it was just another 10k or was it?
What other event offers competitors the chance to run through a 300m disused railway tunnel, dimly lit with the surprise of an accordian player halfway through to entertain and encourage or to run directly underneath the North Devon Link Road Viaduct along the beautiful Deer Park Valley. The route was undulating to say the least but the hills were definitely worth every ounce of the blood (in some cases – eh Steve?)), sweat (in everyones case) and tears (in a few)!
The competitors faced their first tough climb within 300m of the start line as they wound their way up a steep field to join the 'Creepy Cliff' followed by an equally as steep downhill. At 3 miles in the ferocious ford proved a little too ferocious and this was replaced by a bridge crossing, where runners could take on a well deserved drink, before heading in to Bremridge Woods and the 'Tunnel of Doom'. The mud got deeper and thicker through the woods but the leaders did not let this slow them down as they flew around the woodland before joining Deer Park Valley for a flat final mile. This would have proved easy were it not for the biting headwind they faced.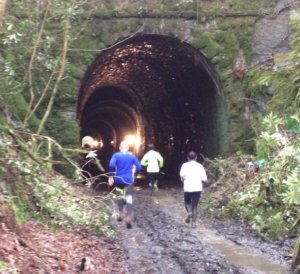 The winner – Kevin Squibb finished in an astounding time of 41.34 a clear 2 minutes ahead of Kevin Reed of Ilfracombe Running Club and Jan Dolezol in 3rd. The first lady across the line was Jane Allison from Mud Crew Trail Runners in 47.13. Mary Menon was her nearest rival in 48.05 followed by Maggie Hunt from Fetch Everyone Running Club in 50.41.
The Strugglers first man was Ian Waldron and Elaine Fields was the first female from the organising club closely followed by Jo Sleep – who only came back to running in January after many years off.
The event proved a huge success and will hopefully be held annually. Many competitors have emailed to say how fantastic the marshals were, how great the venue was, how well organised it was and how hard it was but all have thoroughly enjoyed it! Huge thanks to The Corn Dolly, Bon Bons, South Molton Tool Hire, Ken White Signs, Runners Need and everyone who helped make the inaugural Castle Hill Corker just brilliant!
Results
2014 Corker Photos
- Thanks to photographers Derek Page and Richard Westcott