Exmoor Challenge 10k
South Molton Strugglers VS Ilfracombe RC
Running from the Sportsman's Inn at Sandyway - Run start at 7:15ish. Food in the pub afterwards.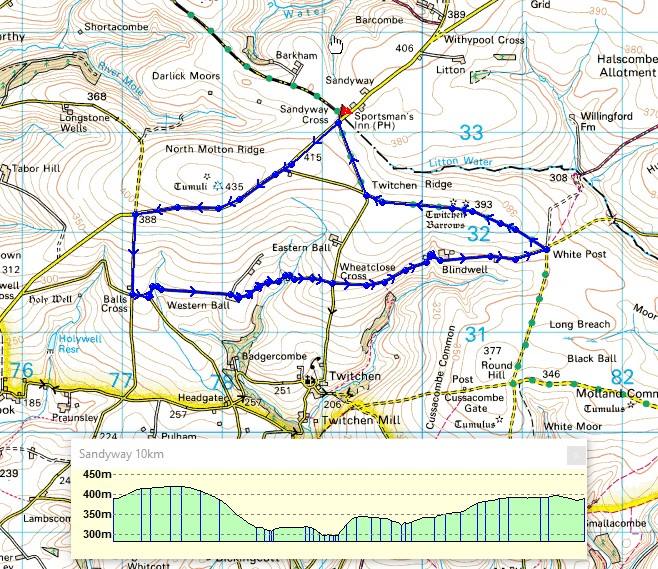 SMS Member Event: No
Grand Prix Distance: No
Race report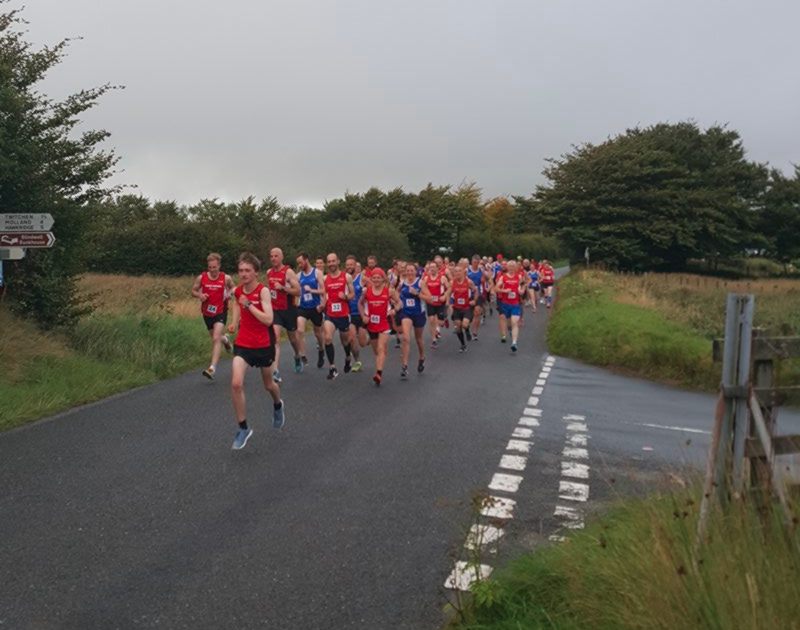 Many thanks to Ilfracombe for joining us in the event.
The scoring system is based on lowest score wins. Each runner gets points based on their position, so first place gets 1 point, second place gets 2 points etc. Only runners up to the maximum number in either team are counted. i.e South Molton had 42 and Ilfracombe had 17, so all of Ilfracombe are counted and only the first 17 of South Molton.
The scores were: Ilfracombe 346, South Molton 320. So South Molton win by 26 points!
Results were as follows.
| | | | |
| --- | --- | --- | --- |
| 1 | Michal Lesmiak | 37.30 | SM |
| 2 | James Stanley | 38.29 | SM |
| 3 | Dan 'Grin' Mudoch | 39.08 | IL |
| 4 | Joe 'Dan' McKenzie | 39.18 | IL |
| 5 | Matt Tapp | 39.23 | SM |
| 6 | David 'Legend' Caros | 39.48 | IL |
| 7 | Paul Morgan | 39.54 | SM |
| 8 | Mary Menon | 40.09 | IL |
| 9 | Kevin Ator | 41.29 | IL |
| 10 | James McKibben | 43.27 | SM |
| 11 | Beth Barrington | 43.29 | IL |
| 12 | Richard Connett | 43.50 | SM |
| 13 | Tom Capron | 43.51 | IL |
| 14 | Stuart Cook | 44.02 | IL |
| 15 | Grant Parker | 44.36 | SM |
| 16 | Paul Brayley | 45.00 | SM |
| 17 | John Hancock | 45.33 | SM |
| 18 | Mark Ley | 45.39 | SM |
| 19 | Andrew Wolff | 45.49 | IL |
| 20 | Alistair 'Ironman' Newey | 46.09 | IL |
| 21 | Becky 'Another Cider' | 46.10 | IL |
| 22 | Andrew Samuel | 46.33 | SM |
| 23 | Pedro Westmacott | 47.04 | IL |
| 24 | James Simmons | 47.14 | SM |
| 25 | Nik Whalley | 47.23 | SM |
| 26 | Kaj Baileys | 47.47 | IL |
| 27 | Tim Baker | 48.02 | SM |
| 28 | Sid Kyte | 48.07 | SM |
| 29 | Matt Waldron | 49.17 | SM |
| 30 | Glenn Walton | 49.26 | SM |
| 31 | Mike Camarero | 50.18 | IL |
| 32 | Phil Pennington | 50.26 | SM |
| 33 | Tracey Pennington | 51.49 | SM |
| 34 | Juliette Matthews | 52.22 | SM |
| 35 | Caroline Shapland | 52.30 | SM |
| 36 | Neil Partridge | 53.03 | SM |
| 37 | Tanya Marrow | 53.09 | SM |
| 38 | John Carter | 53.11 | SM |
| 39 | T**t Hunter | 53.41 | IL |
| 40 | Paul Cooper | 54.11 | Il |
| 41 | Stacey Parker | 54.58 | SM |
| 42 | Debs ' Where am I' Freeman | 55.06 | IL |
| 43 | Kiara Gorst | 56.15 | SM |
| 44 | Neil Brown | 57.12 | SM |
| 45 | Karen Bowden | 57.29 | SM |
| 46 | Sarah Smith | 57.34 | SM |
| 47 | Jo Bindloss-Gibb | 57.49 | SM |
| 48 | Jo Bradley | 58.15 | SM |
| 49 | Ted Townsend | 58.43 | SM |
| 50 | Peter Addisono | 59.31 | Il |
| 51 | Daisy Adams | 1.03.46 | SM |
| 52 | Emma Hill | 1.05.37 | SM |
| 53 | Geoff Adams | 1.06.42 | SM |
| 54 | Andrew Jones | 1.07.10 | SM |
| 55 | Genny ? Adams | 1.08.04 | SM |
| 56 | Toby Cooper | 1.09.33 | SM |
| 57 | Tracey Bawden | 1.09.33 | SM |
| 58 | Phil Rycroft | 1.14.08 | SM |
| 59 | Julie Colman ( sweeper) | 1.14.09 | SM |